We delayed getting our registry set up for awhile. When we moved in together we combined two kitchens, two bedrooms, and two bathrooms, etc. As we were both living in studios, we actually didn't have that much in the way of overlapping furniture. cubes had a full mattress, a bookcase, and armchair with footrest. I had a twin chair-and-a-half sleeper, a Skandia office/entertainment center/bookcase, two dining room table chairs, a sofa table, a coffee table, two end tables, a hope chest, and a pot rack.
We figured we didn't really need anything. But there in lies the problem. We kept being asked what we needed. For our engagement/housewarming, my parents got us a bed. (Yay for no longer sleeping on the floor!)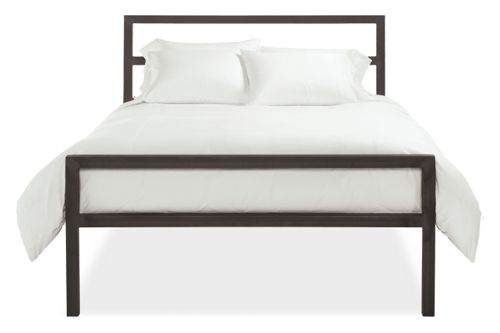 But past the obvious - we don't have dining room table that won't fit in our apartment - what do we need?
We started going room by room. (So far we only have kitchen items and a few electronics on our registry.) We regularly bring cupcakes to dessert parties - a container for cupcakes. We share casseroles at potlucks - a carrying case and lightweight covered casserole. We love to saute and discovered that we didn't have a fry pan. All of our skillets were non-stick. We IM'd choices back and forth during lunch.
Okay now that we had an idea and plan for adding items, we needed to figure out where to register. Not everyone is online, so we needed an offline option and we needed a way to manage multiple registries. MyRegistry.com immediately came to mind as you aren't tied to one store's items and it has the ability to sync with a couple of bricks-and-mortar registries (Williams-Sonoma, Target, Crate and Barrel, etc.). WeddingChannel.com does something similar. I read
Jem's
horror story of how the online service didn't migrate registries when they changed to a new data format. So not cool. We immediately passed.
I ruled out Target based on recent experiences by numerous bees -
Miss Button
,
Miss Rainbow
,
Miss Pencils
- with broken scanners, mysterious items, and more. With our busy schedules, if we had to physically scan items I didn't want to have to do it multiple times. I ruled out Kohls based on
Miss Pretzel
's experience with an incorrect gift card. Again we're busy, we'd like to know we're thanking the right person (and I don't want to stress about accidentally thanking the wrong person).
It was pretty easy to narrow our list of potential stores. Want to know how we chose our physical stores? Stores that had registry parties. (I initially got really angry that one store didn't have a party in SF and that the closest the parties came to us in CA were all in Southern CA. Turned out they just have a horribly indexed website.) Besides the fact that I like parties - especially ones with drinks and nosh - the reason we chose stores with parties is that it felt like they were thanking us for our business. Sure registries are a convenience for us. But we don't have to choose any particular store.
(As an aside... my ideal registry party doesn't exist - but totally should. It would be so neat to have a knife skills session at a food specialty store. I mean what bride and groom wouldn't want to know what all the various knives are used for and how to care for them? Or a cooking/grilling demonstration where you see various types of pots and pans used? Outside the shape differences, do most people know when you use a saute pan versus a fry pan? If you don't, the
Reluctant Gourmet
has a good description.)
So in May - two nights after work - we're going to finish our registries at:
How did you choose where you were registered? What was your plan for registering for items?